Chilled Pet Food
As with humans, pets thrive on a balanced, natural* diet and getting the balance right is key in ensuring your pet's good health and longevity. Just like their pet parents, a diet including a balance of Meat, Vegetables and Grains assists with good health, and a variety of textures including Dry, Fresh Chilled and Wet foods keeps them healthy and happy.
The Natures Gift Chilled range contains fresh Australian ingredients to create a healthy and nutritious balanced meal for your pet. Our chilled range contains no artificial preservatives, colours or flavours, and is gently cooked to lock in the nutrients.
Learn About Chilled
Real Pet Food - Chilled 30 Secs
Chilled - Health
Chilled - How to mix
Chilled - How to serve
Why chilled for your pet?
Fresher is better. Fresh ingredients, gently steam cooked to lock in nutrients and served straight from the fridge. Nutritious meals your pet will love.
Real Ingredients. With real Australian meat and nutritious vegetables our Chilled range will keep them healthy and happy.
Variety is the spice of [a Dog's] life. We don't want to eat the same thing every day, so why would our pets? With a range of flavours and textures in our new chilled range your pooch will love every meal.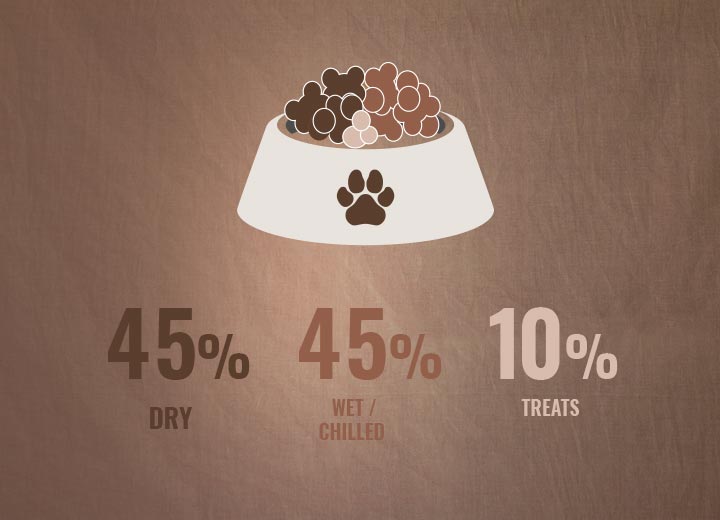 How to transition to chilled
Nature's Gift Chilled fresh pet food is the perfect accompaniment to Dry food for a well-rounded meal. If your pet is new to fresh pet food, make sure you introduce the fresh food into their diet gradually. For example, on days 1, 2, and 3, serve 75% of their normal dry food, with 25% of their meal as Chilled food. After this gradually move to 50% dry and 50% chilled, for a fresh nutritious diet they will love.
View products